Welcome to Greek Orthodox Church of the Annunciation
"Welcome one another, therefore, just as Christ has welcomed you, for the glory of God." - Romans 15:7
Welcome to the website for the Annunciation Greek Orthodox Church. We pray that this web page becomes a useful tool in your spiritual life, fostering and nurturing a prayerful existence within the Lord's Holy Vineyard. Read More »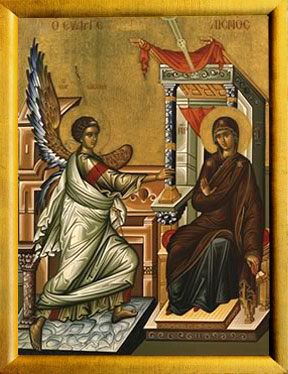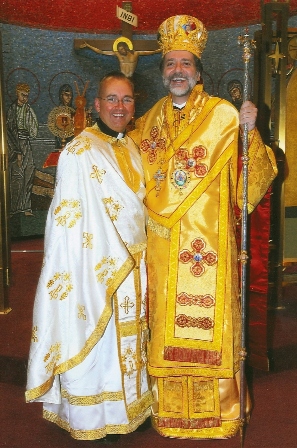 The Sacrament of Holy Confession may be scheduled by appointment by contacting Fr. Michael.
STEWARDSHIP is an important part of our Orthodox Christian Faith. Every member of the Church is expected to contribute and fulfill their financial responsibility to the Church. A minimum pledge of $400.00 per annum is expected for a family (i.e. a husband and a wife, or father, mother, and children).
A minimum pledge of $200.00 per annum is expected of a single adult. If a single adult has one or more children, he or she is expected to contribute the family rate of $400.00 per annum. Individuals with financial hardship, who can not pay the minimum expected stewardship, are urged to speak to the parish priest, Fr. Michael.
Sacraments, such as Holy Baptism and Holy Matrimony, are performed by the parish priest for parishioners who are in good financial stewardship standing. Parishioners must complete a form requesting the sacrament be performed. All dates are to be approved by the Parish Priest. The Parish Priest, as the Bishop's representative, is the supreme convening authority as to whether a sacrament is performed for an individual. The priest will direct an individual to provide a note from the parish council president or vice-president confirming that they are in good stewardship standing before the sacrament is scheduled.
---
Services Schedule
Sunday Services:
Orthros: 8:45 AM (September - May) 8:30 AM (June - August)
Divine Liturgy: 9:45 AM (September - May) 9:30 AM (June - August)
---
Holy Week Schedule for the Greek Orthodox Church of the Annunciation for 2014
Presiding Priest/Proistamenos: Rev. Dr. Michael Bahlatzis
Saturday of Lazaros, April 12th
Orthros 8:30 am
Divine Liturgy 9:30 am
There will be a childrens' breakfast served following the Liturgy and this will be followed by the making of crosses from palms afterwards

Palm Sunday, April 13th
Orthros 8:45 am
Divine Liturgy 9:45 am
Palm Sunday evening, April 13th
Service of the Nymphios/Bridegroom Matins
6 pm

Holy Monday, April 14th
Service of the Bridegroom Matins
8:00 pm
Holy Tuesday, April 15th
Service of the Bridegroom Matins and Hymn of Kassiani
7:00 pm
Holy Wednesday morning, April 16th
Pre-Sanctified Liturgy
9 am (Holy Trinity Greek Orthodox Church, Binghamton)

Holy Wednesday evening, April 16th
Service of the Sacrament of Holy Unction
7:00 pm (Annunciation Church), 3:00 pm (Holy Trinity Church, Binghamton)
Holy Thursday morning, April 17th
Vesperal Liturgy of St. Basil the Great
9:00 am
Holy Thursday evening, April 17th
Service of the Holy Passions of our Lord and the 12 Gospels
6:30 pm
Holy Friday morning, April 18th
Service of the Royal Hours 9:30 am
All are invited to assist in the flower decoration of the Epitaphios at the conclusion of this service. Fr. Michael will provide written excuses for school absences for those children who spend the day at the church. Camp Annunciation Holy Friday Program begins with decorating the Epitaphios followed by a light Lenten lunch at 12 noon. All are encouraged to bring and share a dish to pass that conforms with the fast of Holy Friday. A JOY/HOPE meeting will be at 1 pm. All adults and children are invited to attend.
Holy Friday afternoon, April 18th
Service of Great Vespers of the Apokathelosis
The un-nailing of our Lord from the Cross
3 pm
Holy Friday evening, April 18th
Service of the Lamentations Matins
6:30 pm

Holy Saturday morning, April 19th
Vesperal Liturgy of St. Basil the Great
The First Resurrection of our Lord raising Adam and Eve from the dead
10 am
Holy Saturday night, April 19th
Matins of the Pascha 11:00 pm
'O Come and Receive Ye the Light...' 11:45 pm
Reading of the Gospel of the Resurrection of our Lord 11:55 pm
followed by the Liturgy of St. John Chrysostom

Easter Sunday (Pascha), April 20th
Vespers Service of Agape (Annunciation Church) 11 am
The Gospel will be read in multiple languages. Please see Fr. Michael if you are interested in reading the Gospel in ANY other language besides Greek and English.